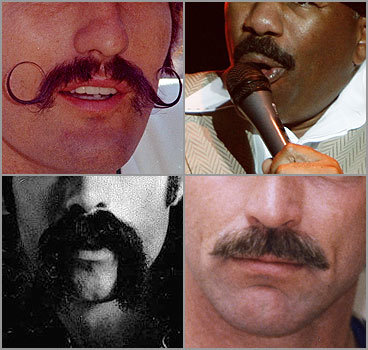 This is not another one of those "Odd facial hair is the hot new thing" blog posts or some ironic hipster moustache glossary. I've been tired of that shit for years. But when it comes to style analysis, somehow ESPN Magazine pretty much hit it on the nose with their hilarious, John Madden-ish, don't-be-a-douchebag tone in this recent piece critiquing the moustache sanctuary that is the NFL. Some key "expert opinions":
(D) Dave Wannstedt
Seen here in its natural state of "confused grimace", the Wannie 'Stache acts as a mirror to his famous frown dimple, which hangs just beneath his lower lip. This hypnotic combination of hair and facial creases creates a vortex that lures owners or athletic directors into continually hiring him, despite his obvious mediocrity.
EXPERT OPINION: "What is that thing on top of his lip? He needs to call the exterminators because it does not belong on a human. Are you sure it's not a photo of a bulldog?"

(H) Tony Dungy
The Dungy 'Stache is a throwback to the 70s, a thin stretch of hair that straddles the lip like a caterpillar, yet leaves enough room above his nose to allow Dungy room for nostril exercises. A classic in every sense of the word.
EXPERT OPINION: "He drew that in. It's not real. Or it's just starting to come in so he's using dye. Probably a coach for Detroit. I don't even know if their coach has a mustache, but it's got to be Detroit."
Yeah, most facial hair is decidedly hid. But for whatever odd reason, it's sticking around. Just ask the iconic moustache in my life, my dad.
I think Obama's congratulating him on his three-plus decades of dedication to the cause. I'm staying away, but go ahead, try it. Just do your research.
5 years ago